3M PELTOR Optime X Series Premium Quality Ear Defender - X5A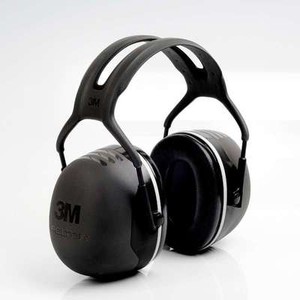 ---
Peltor Optime X- X5A

 

Premium Lightweight Quality Ear Defender Muffs

Made by the leading manufacturer 3M PELTOR

 

Conforms to EN 352-1  SNR=37

The new 3MTM PeltorTM X Series Ear Defenders offer a wide range of attenuation levels designed to meet the needs of the majority of industrial applications.   3M Peltor X5 Ear Defenders (SNR 37dB) For protection against extremely high noise levels. For example, airports, quarrying or paper millsUnparalleled attenuation (SNR 37dB) as a result of an optimum combination of specially formulated foam technology and a newly designed spacer and cup.Despite the larger cups the product remains relatively lightweight with excellent balance and wearer comfort. Simple colour coding: black, for extremely high attenuation in demanding environments.   The 3MTM PeltorTM X5A Headband ear muff is a high performance hearing protector offering 37(dB) attenuation for use against extremely high noise environments , which often require double protection. Despite the larger cups the ear muffs remain relatively lightweight with excellent balance and wearer comfort. The wire headband is electrically insulated for reliable protection. Key Features: Unparalleled attenuation without the need for double protection Soft wide cushions help reduce pressure around the ears and improve comfort and wearability. Dual moulded cups Large space inside cups helps reduce moisture heat build-up Electrically insulated wire headband   Noise Band Rating   Noise Level From 95dB(A) - 110dB(A)

 For further enquiries please contact us. 

Our details can be found in the 'Business Seller Information' below.Visit our shop for further availability on a range of similar products.Discounted rates are available on items bought in larger quantities.

Thank you for your interest in the products & services we offer.