ANTIQUE c 1906 Bowl Back Taterbug Mandolin w/Hawaiian Motif Homemade Case NR yqz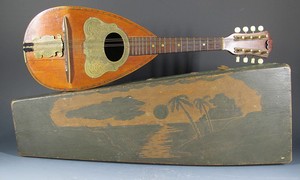 ---
Welcome to Estate Auctions Inc!

We are one of the Leading Sellers of Antiques, Collectibles and Quirky items on . We have been selling since 1998 and are proud to announce that we have maintained a 'FIVE STAR Detailed Seller Rating'. Our staff always strives for 100% customer satisfaction, reflected by our 100% positive feedback rating. We work with consignors from coast-to-coast and around the world, working hard to make sure we provide top quality items.

We are 'Your Quality Zone' - search 'YQZ' to see our other listings. Note: YQZ® is a registered trademark of Estate Auctions, Inc., LLC and can only be used with the express written permission of Estate Auctions, Inc., LLC by associated entities.

See Other Listings ANTIQUE c 1906 Bowl Back Taterbug Mandolin w/Hawaiian Motif Homemade Case NR

Rare Brass Pick Guard Shabby Chic Condition

Up in this auction is an antique, we are estimating circa 1906, bowl back mandolin, also called a taterbug or a watermelon mandolin. It comes in a home made wooden case that has a carved Hawaiian motif on the cover. It also has a brass pick guard with an art nouveau design as well as another brass decorated piece lower on the mandolin, we could not find any others with a brass pick guard. We could not find a makers mark on it. Missing four strings, has old stuff adhered to the back of the mandolin, like old paper, it looks like the varnish used on it was still sticky when they put it up against something. There is a crack on the front of it. BUT... A really cool looking instrument and case. GOOD LUCK!!

...keep scrolling there are 38 pictures below!Click on any photo to see it in its original size in a separate tab.

The Calculator is not always right - if the shipping looks too high email us and we will give you an accurate quote prior to the auction ending.

Estimated shipping weight, (packaged) is 8 lbs 8 oz

in a 28 x 12 x 12 box

Facts about Estate Auctions Inc. and Your Quality Zone crew

We are a team of full & part time professionals.

Intensely trained to maximize your experience in and around .

Headed by our founders Norb & Marie Novocin

Our divisions include: Buying, Inventory, Photography, Research & Listing, Shipping, Transportation, Programming & IT

We have been on since 1998!

We have had over 190,000 sales on .

Estate Auctions, Inc. has over 37,000 unique positive feedback ratings

We maintain a five-star rating and have a 100% Positive feedback,

with over 20,000 repeat buyers!!

When you are in Your Quality Zone, you can bid with confidence!

Please note: We put up a very ecclectic collection of items and are not experts in every area, so descriptions are our best detective work as to what something is. While we research each item to the best of our ability, it is the buyer's responsibility to know what they are buying.

Check back everyday to see our latest offerings! We put YQZ in each of our titles so you can search our items easily.

We also take quality consignments. Please email us for more information.

We are Trading Assistants - We call sell items for you!

Terms Of Service

Selling on has been our primary focus since 1998. We uphold and instill the value of treating all of our customers as if they are family.

Our company motto is to "Be courteous, promptly answer e-mails, be fair in all our dealings, and try and make friends of each and every customer."

Unfortunately, in today's market with 's rating system and the never ending rate increases in the U.S. Postal & other carrier rates, we need to define and explain our methods of business.

ONE - Who We Deal With

We sell and ship worldwide to anywhere, so please email us for a quote to wherever you happen to be.

TWO - Tracking

We are required to put tracking on every package, even if it raises the cost of shipping it.

THREE - Shipping Charges

We charge shipping based on the USPS system. We will sometimes ship via courier if we can get it to you within the same time frame or faster. We add a reasonable cost for materials and handling. Our materials cost is based on exactly what it has cost us to wrap similar sized items in the past. We realize that almost everything we sell is valuable to you and there is nothing worse than having something break in its final journey to your hands. We do our best to pack properly and use the correct materials to protect your win. If we are able to get the item to you for less than our quote we will refund the difference to you!

For oversized items or items that will take special attention to package, (building a crate, wrapping many small items individually, etc.), we ask you to email us for a quote on shipping prior to the auction ending. If you do not, we charge the same amount as if you did.

FOUR - International Shipping

We charge shipping based on the USPS international system. The rates follow the same guidelines as number 3 above, though for international customers we add an additional $1.00 to cover the extra paperwork involved in international shipping. If an amount goes over $100 in value we will only ship it with Priority or Express Mail, regardless how small an item. That allows for us to have international tracking. We have to include tracking even on First Class Mail, so we can not just throw something in an envelope and stick a stamp on it.

FIVE - Insurance

's policies no longer allows us to charge the client for insurance. However... we still apply insurance to any item that goes over $27.00 in value. We reserve the right to use the insurance carrier of our choice. Sometimes that is Postal or the Carrier's Insurance and sometimes that is a private insurance company such as DSI or U-PIC/Shipsurance. If we use a private insurance company the package will not be marked insured, though it will be covered.

SIX - Methods of Payment Accepted

We abide by 's rules and try and stay abreast of their changes. We accept Paypal. Paypal also accepts the major credit cards, or we also take Credit Cards Directly over the phone, (MC, VISA, DISCOVER, AMERICAN EXPRESS, CARTE BLANCHE, DINERS CLUB, JCB) Bottom line, whatever method is most convenient for you.

SEVEN - Time Frame To Pay

We ask all auctions to be paid for in the fastest possible time frame. (This is all we do for a living and we need the money to pay the bills and buy more unique and fun items to put up on ). If an item goes unpaid we report the transaction to to recover our fees, this counts as a strike against the winning bidder unless they step forward and pay.

EIGHT - Shipping Time Frame

We make every effort to ship in a timely manner. We are listing tons of items, and are just plain swamped, so we have to schedule a special time to pack and ship. We ship on a first paid, first shipped basis. (We do not ship any item until it has been paid and the funds have cleared.) With the ebb and flow of payments we manage to get everything out of the door within one week. If there is a rush, we will make every effort to work with you in getting it out of the door faster. As you can see from our feedback, we do not disappoint. OF COURSE, items that need special attention, crating, etc adds to the time frame of those items.

NINE - Local Pickup

Sometimes it makes sense to come by and pickup your items. Sometimes an item is just too big for any other option. If you've arranged local pickup with us, you must pickup the item within 30 days otherwise it will be subject to storage fees and/or relisting. Storage fees for items begin one month after being won, and the fee consists of $5 per item or 10% of the value, whichever is greater, each month it is stored. If the storage of the item exceeds 11 months or exceeds the overall purchase value, the item will be ours to resell in order to recover the storage fees.

TEN - Communication

Please feel free to contact us at anytime, with any question or comment. Unless we are out of town, we make an effort to answer all emails as quickly as possible.

Follow Us

Facebook

Twitter

Copyright 2016. Estate Auctions Inc., LLC YQZ® Antiques. All Rights Reserved.