Czech Fire Polished Round Faceted Glass Beads in Crystal SunSet Metallic, 16"str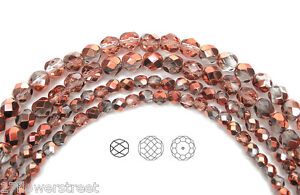 ---
Hello and Thank you for Your Business!
Brand new 16 inch strand of Czech Superior Quality Glass Fire Polished Round Faceted Beads
in Crystal SunSet Metallic coated color #00010/27137
Please choose a size and quantity from the drop-down menu on top of the listing.
This is brand new, unused merchandise. Made in the Czech Republic. It ships from RI, USA.
We understand that sizing of beads and stones may be confusing. Please see images for size comparison.
Please note: Images are for informational purposes only. Colors on your screen are affected by monitor settings and different web browsers. Slight changes in shades are unavoidable.
We will gladly combine shipping. Please do not hesitate to ask questions.
These Fire Polished Beads have been made in Northern Bohemia (part of the Czech Republic) for centuries. Production of glass beads in the area dates back to the 14th century. The production process starts with the highest quality Czech glass, which is pressed in a mold, then precisely faceted by machine and polished in a direct fire. The advantage of a fire polishing technique is a softer, gentler appearance to these scratch resistant beads. This unique look of slightly rounded facets helps to tone down the hard lines of machine cut crystals. A huge color and size range, lots of different coatings and the ability to blend well with other types of jewelry components makes these brilliant beads at home in both modern and vintage designs. ~~~ Fire Polished Beads are sold in approximately 16 inch strands with crimp beads at both ends. Quantities are as follows: size 3mm – 135 beads per strand, 4mm – 102 beads, 6mm – 68 beads, 8mm – 51 beads, 10mm – 41 beads, 12mm – 34 beads, 14mm – 29 beads. ~~~ Please note that color deviations due to natural properties of glass cannot be avoided. Color shade may change in different lots of raw glass. Larger sizes tend to be darker due volume of material used. ~~~ These are cost effective yet superior quality faceted beads. Your satisfaction is guaranteed.
************************
To our international customers – due to a stiff increase of international postage we suggest you to contact us and wait for an invoice showing actual shipping charge. We will do our best to save you on shipping and import charges. Smaller or lighter items may be shipped thru cheaper first class mail and we will reflect savings on your invoice...
************************ 
If you are happy with our merchandise and service, PLEASE TELL EVERYBODY.
If you are not 100% satisfied, PLEASE TELL US! (before leaving any feedback)
We strive to achieve 5 ***** on every feedback.
We appreciate your business.
For more great items, visit our store: Crystals and BFF