DIY KIT FOR GUITAR DIGITAL AUDIO ECHO DELAY PT2399 MIX FEEDBACK DELAY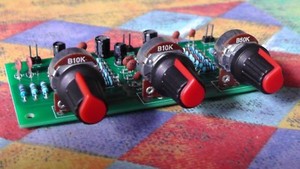 ---
Hello!
Here is my new GUITAR AUDIO ECHO DELAY board!
You can adjust MIX (DRY/WET), FEEDBACK and DELAY with 3 potentiometers. 
The pots can by soldered  directly to the board or you can choose any PCB terminals like KF301, pitch 5 mm to solder in and have the wires.
High input impedance. There is also a load resistor at the output.
You can change gain ratio by changing the resistors on board.
All parts can by easily found at your local hobby store.
Power supply you will need is +9 to +12 voltage any stabilized DC PSU.
There is a circuit diagram in one of the pictures attached. please take a look.
YOU WILL GET PCB, BOM, CIRCUIT AND ALL THE PARTS
YOU WILL NEED TO SOLDER ALL PARTS
Write me please if you have any question about this item.
Thank you,
Saulius