Excellent French Violin by Paul Bisch with Millant Certificate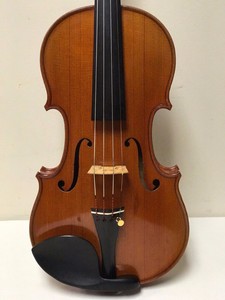 ---
Excellent French Violin by Paul Bisch for Sale for a bargain price!  The Violin is professionally setup with Obligato Strings and Deluxe Aubert bridge.  The instrument is in mint condition with no repaired cracks anywhere on the instrument.  The instrument comes with a new case and will be shipped with the bridge down and tailpiece and strings removed for safety.  This is a lovely sounding violin for the price.  This violin also comes with a Millant certificate which should make you even more comfortable with the purchase. Please ask all the questions you like!  This violin is prices to move! Good Luck!
Excerpt from Universal Dictionary of Violin and Bow Makers by William Henley:
Paul Bisch
Born at Mirecourt 1893. Pupil of Mougenot and also worked for Caressa and Francais at Paris.
Modelling Somewhat similar to that of a Gand.  Wins Attraction by its refinement workmanship has all the subtlety of experienced skill. Scroll, sound-holes and purfling, all neatly done. Red-Brown oil varnish on yellow ground—of sparkling effect. Tone completely in accordance with modern requirements. Won Grand Prize at the Exposition de l' Artisant, Paris 1927.