Pretty, old with Copper Ornate Liquor Bottle with a music box at the bottom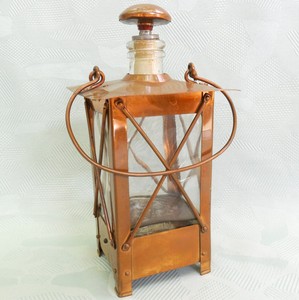 ---
Jahrzehnte lang habe ich konsumiert und gesammelt, die Schränke sind voll und bedürfen nun der Minimierung.
Es ist für mich an der Zeit das Eine oder Andere an wertschätzende Hände abzugeben.
Ich biete demzufolge an:
Hübsche, alte mit Kupfer verzierte
Schnapsflasche
mit einer Spieluhr am Boden
Die Flasche misst in der Höhe 21 cm,
das Gewicht beträgt 817 Gramm
guter Zustand
 Versandkosten siehe Beschreibung
Bei Mehrfachkauf fasse ich grundsätzlich die Versandkosten günstig zusammen.
Bei Käufen aus dem Ausland bitte vorher anfragen.
Meine Bilder sind wie immer Bestandteil der Beschreibung, ich bemühe mich alles Wesentliche abzubilden,
sollte das mal nicht gelingen, so beantworte ich gern auch Fragen.
Schauen sie bitte in meine weiteren Aktionen, vielleicht ist ja etwas für sie dabei.
Shipping costs see description With multiple purchase I summarize basically the shipping costs together. For purchases from abroad, please inquire first. As always, my pictures are part of the description,
I try to depict everything essential, If that does not work, I like to answer questions. Please look into my further actions, maybe there is something for you.