Master Collection Spring Assisted Folding Pocket Knife TACTICAL New! MC-A027PK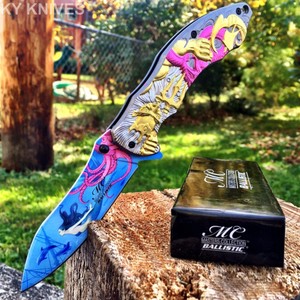 ---
Assisted Spring Open Hunting Knives Daggers Swords Throwing Knives Boker Knives Imperial Schrade Pocket Knives

Add KY Knives to your Favorites and receive our email newsletters about new items and special promotions.

Master Collection Spring Assisted Folding Pocket Knife New! MC-A027PK Click Thumbnails to Enlarge

Description:

SPRING ASSISTED

3.75" 3MM THICK, STAINLESS STEEL

FULL COLOR GRAPHIC BLADE WITH HEATED TRANSFER COLOR GRAPHIC

4.75" CLOSED

8.5"OPEN

4 COLOR ANODIZED ALUMINUM HANDLE WITH SCULPTURE

INCLUDES BLACK TRIDENT CUT OUT POCKET CLIP

Return Policy Return Policy

Return Policy terms text goes here.

Shipping Policy

We Ship USPS. We Ship Every Day Monday Through Friday, All orders are shipped Next business day after purchase, please note also, all tracking numbers will be updated on during that next day, if tracking not available after a few days, please contact us

Terms of Sale

Preferred Payment Is PayPal, If you are waiting on other auctions to end, please wait and pay for all at once to promote your order to Priority Shipping

Home About Policies FAQ Contact Payment Shipping Copyright © 2017 KY Knives - All rights reserved.