Midi Solutions Thru 1 in 2 out Midi Thru Box New, Dealer, free fast shipping 889406003842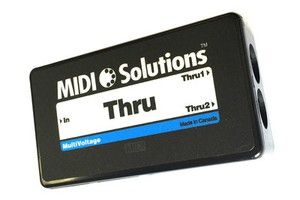 ---
Store Pages Add to Favorite Sellers Sign up to Newsletter View Feedback Ask Seller a Question Visit Seller's Store Store Categories Audio Interfaces Cables, Accessories Digital Recording Digital Tuners DJ Equipment Headphones Keyboard Stands Microphone Stands Microphones, Preamps MIDI Controller Keyboards MIDI Interfaces Mixers Monitors, Speakers Music Software Studio Equipment Synths, Sound Modules Other     Midi Solutions Thru 1 in 2 out Midi Thru Box   Description
Midi Solutions Thru
The MIDI Solutions Thru is a 1-in 2-out MIDI Thru Box. All MIDI messages appearing at the input are sent to both Thru outputs. Active circuitry cleans up any skewing of MIDI data bits that has occurred at the input, ensuring reliable operation in setups that require daisy chaining or long cable runs.As of April 2016 it is compatible with devices that follow the 3.3V and 5V MIDI Specification.

The MIDI Solutions Thru is MIDI-powered, and requires no batteries or power supply to operate with most products (see FAQs - Power for more information). A MIDI indicator LED lights up when the product is powered and flashes when MIDI data passes through it.

MIDI Solutions Thru boxes provide additional MIDI Thrus wherever required in a MIDI setup. For example, if you need to send a single MIDI data stream from a sequencer to a number of sound modules, you can use a Thru box to provide extra MIDI connections to those modules.

As MIDI devices are daisy-chained from one to another, MIDI signals gradually loose their integrity due to passage through optoisolaters at the devices' MIDI inputs. MIDI Solutions Thru boxes can be used to clean up the MIDI signal at any point in the chain where it is starting to become unrecognizable (actually all MIDI Solutions products clean up MIDI data in this way). Be careful of other Thru boxes that amplify errors along with the signal MIDI Solutions Thru boxes actually read in the data and re-clock it out at the correct baud rate, eliminating any errors that have accumulated due to daisy-chaining or long cable runs. Because of this, MIDI Solutions Thru boxes can also be used to extend a MIDI connection further than the standard 50 feet. By connecting Thru boxes in series it is possible to extend the MIDI cable length by 50 ft. at a time (to send MIDI over even longer distances, see the Power Adapter).

Specs:

weight: 4.1 oz. dimensions: 4-3/16" x 2-3/16" x 1-3/32"

About Us In 1996 The Midi Store LLC was started with the idea of providing great service to other musicians for all kind of Midi gear. Since 1999 The Midi Store has been online offering a wide selection and low prices on music software and hardware items, keyboards, synthesizers and samplers, everything you need to create and enjoy electronic music. You will also find all kinds of other items such as stage boxes and snakes as well as many different kinds of cables, microphones and more. We are always adding to our online inventory so if you don't see an item you are searching for, please drop us a line. We provide in-depth information on all products, and a friendly customer service. If you have any questions, feel free to ask, help is only an email or phone call away. MOST IMPORTANT - We are NOT some mega-store with a huge staff that turns over every 6 weeks. We are NOT some giant conglomerate who thinks of you as just another dollar in their pocket. We are a small business with a dedicated staff of musicians that care about you and the products we sell. If you wonder where great customer service has gone, you have come to the right place. We are a small, friendly, retail and internet store and we will treat you like you matter to us, because you do! Recycling - We also believe strongly in trying to help save the planet, so we will recycle materials where appropriate. We take the time to break down boxes and re-use them whenever possible. This means that the external packaging of your item might look like an old ugly box, but we promise that we took great care making sure your purchase would arrive free from damage.  Store Policies Payment We accept Paypal, Visa, Master Card, Discover and American Express cards only. The easiest way to pay is via Paypal, you can use your credit card to pay and do not need to be a Paypal member. You can also use your credit card directly through . Shipping - Continental US (48 states) Our US shipping rates are posted on each auction or store item pages. Most items are shipped FREE in the USA. In the US we may ship FedEx or USPS as well if it is faster for your to get your items, even is UPS Ground is the only shipping method shown. Please contact us for international rates if you do not see them in the shipping calculator before bidding. We also ship UPS overnight, 2 day and 3 day select, please contact us for a shipping quote before bidding. We also ship US Mail to PO Boxes and APO/FPO addresses. Shipping - US (Alaska, Hawaii) We normally ship USPS First Class or Priority Mail to Alaska and Hawaii. Please contact us for cost if you need faster shipping Shipping - International We ship many items outside of the US, please check the listing page for availability. Most international orders are shipped via the shipping service but we can also ship via USPS Priority/Express Mail or UPS. The shipping services is always going to be LESS expensive that any other method of shipping. Tracking information will always be provided. Please keep in mind that we can only quote TRANSIT time for your country, customs clearance will take some additional period of time that is out of our control. If your item is shipped via the shipping service, any customs fees due will be collected by at the time of purchase. If you ask us to ship another method, any customs fees or taxes that might apply will be collected when your item is delivered. The buyer is responsible for any additional costs charged by your country. We have no information available on charges for customs and taxes, please contact customs in your country to find out the actual cost of importing goods. We ship about 25% of our products outside of the USA so we will make sure your items are properly packed to ensure no damage occurs but insurance IS required for all international shipments. Warranty questions for international customers - ALMOST ALL PRODUCTS SOLD ARE UNDER USA WARRANTY ONLY - this means you will need to send the item back to us for any warranty work, YOU are required to pay any return shipping charges. WE will pay to send the item back to you when it is repaired. This includes any items that might be DOA (dead on arrival, not working when first received by you.) If you do not agree to this then please do NOT purchase from us. We are a US dealer, which means most all items we sell will have US 110 power, if you are using the item in a country that requires 220v power we DO NOT have power adapters, you will need to purchase one in your country. Sales Tax We're located in Arizona, and required by law to collect 6.35% sales tax from AZ residents or products shipping to Arizona. We also have warehouses in several other states and due to on-going changes in state sales tax law, effective 08/01/2016 we also collect sales tax in the following states: CA, FL, NJ, TX and WA. Returns Due to the expense of selling on , any NON defective returns that are accepted may be subject to a restocking fee. Any shipping costs paid by you are NOT REFUNDABLE. If the items is shipped free our cost for shipping will be deducted from your refund. Software products can only be returned if the shrink-wrap is intact and the software packaging has not been opened. DIGITALLY DELIVERED GOOD ARE NOT RETURNABLE UNDER ANY CIRCUMSTANCES. Any software products that have been opened will be refused or returned to the purchaser. For health reasons certain other items such a headphones, microphones, earbuds, earplugs, hand held recorders or similar items used in or near your mouth or ears are NOT returnable unless unopened. The Midi Store LLC reserves the right to inspect all returned merchandise and may refuse a refund and return your product to you, or assess a charge of up to 25% of the purchase price for returned materials which are damaged or incomplete. In addition, we may charge a 15% restocking fee for return of opened non-defective product. The Midi Store LLC may also refuse a return which arrives without a Return Material Authorization (RMA) number. Please note that any RMA issued is valid for 10 days only, your item must be returned within that time or the return will not be accepted. Please Contact us for instructions on obtaining an RMA#. If you have any other questions, please Contact us before bidding. Contact Us Sedona, AZ 86351 USA Hours; Phone: Monday-Saturday 8am-6pm Arizona time... Store: Monday-Friday 10am-6pm AZ time   © Copyright 2017 Midi Store. Rights reserved.