PreSonus STUDIO ONE 4.1 PROFESSIONAL UPGRADE FROM PRO 1, 2 or 3 Software DAW NEW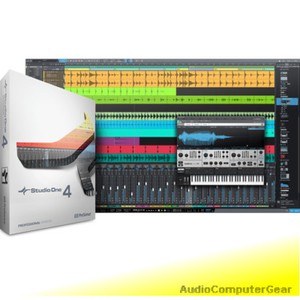 ---
Thank you for visiting our Store! This Item is On Sale: $299 Make an Offer for Discount!

PreSonus Studio One Pro 1-3 to Professional 4 Upgrade DOWNLOAD DELIVERY --> product Serial Number/License activation code and Download instructions are Emailed to you right away. GET UP AND RUNNING TODAY!! PLEASE NOTE --> Studio One Pro (any version) registered users are eligible to purchase this Upgrade. You must have Studio One Pro 1-3 installed and activated to use the Professional 4 Upgrade Product Key!

If you have Studio One Pro (any version) and are ready to move up to the powerful advanced features of Studio One Professional 4, this upgrade makes it easy and affordable! When you purchase this upgrade, you will receive an email with your Upgrade Product Key allowing you to instantly unlock all of the amazing features Studio One Professional has to offer. In addition, you will be able to download all of the Studio One Professional bundled content from your user account, including a fully licensed copy of Melodyne Essential (a $99 value)! Item Details: This item is BRAND NEW. We are an authorized PreSonus dealer. You will receive the latest Full Version and can be assured of an authentic official PreSonus license. Fast, Same-Day Electronic Delivery. This product is downloaded directly from PreSonus's website.

Specifications and Features:

Studio One Professional Version 4 is packed with powerful professional editing features, including tightly integrated Melodyne pitch correction, yet its uncluttered, intuitive browser and drag-and-drop paradigm let you work faster and more creatively, without wading through menus, so making music is more fun. Tasks that take multiple steps in most DAWs can be done in one or two quick, easy steps. Plus, professional users and respected reviewers agree: Studio One's 64-bit audio engine delivers superior sound.

Load and save audio clips, MIDI files, effects, and VIs by drag-and-drop. Import and export MP3s. Take advantage of multitrack comping, multitrack MIDI editing, transient detection and editing with groove extraction, and Folder Tracks. Import videos and create soundtracks. Use the 33 bundled Native Effects plug-ins, third-party VST and AU plug-ins, and ReWire. Mix, master, burn CDs, and upload to the Web, all within Studio One.

Here are some of the important features in Studio One 4:

Integrated Melodyne pitch correction. Studio One 4 seamlessly integrates Celemony's Melodyne so tightly that, for practical purposes, Melodyne is simply a part of Studio One. You hear your edits in context with the rest of the arrangement, and when finished editing, render the audio in place—no track transfers or manual rendering! Furthermore, edits made in the arrangement are seamlessly synced in Melodyne. Want to go back to where you were? It takes one click. Melodyne Essential comes with Studio One Professional 4

Transient detection, editing, and groove extraction. Sure, you can do transient detection and editing in other DAWs—but it can be slow and painful. In Studio One, you simply select an audio event and press Q to quantize. Groove extraction is as simple as drag-and-drop; extract a groove from any audio and apply it to any other audio in seconds!

Multitrack comping done right. Single and multitrack comping are quick and easy in Studio One—and faster than with most DAWs! No tool-switching is needed, and crossfading between takes is automated, although you can edit the fades. Auditioning takes is as simple as holding Alt and clicking on a take.

Find it quickly. Studio One's Browser offers quick access to instruments, effects, sounds, files, and more. In version 4, you can search within any location in the Browser, making it even faster and easier to find the resources you want.

Organize your tracks. Organizing related tracks and working with them as a group is a breeze with Folder Tracks. Group and bus your Folder Tracks with the click of a button—an exclusive Studio One feature.

Edit multiple MIDI tracks simultaneously. Now you can view and edit more than one instrument track at a time in the Music Editor, including editing multiple parts on different Tracks at once.

A great plug-in collection just got better. Studio One's Native Effects plug-ins have drawn rave reviews from the media. Now they're even better. The Ampire guitar-amp modeler is now Ampire XT and features new amp models, a new convolution-based cabinet-modeling section and an effects section. And the new OpenAIR convolution reverb delivers ultra-realistic reverberation based on real spaces and classic hardware reverbs. To top it off, with the new IR Maker, you can capture your own impulse responses.

Enhanced mastering with Studio One Professional. No other DAW offers a truly integrated mastering suite comparable to the Project page in Studio One Professional. To its already extensive list of mastering and distribution features, Version 4 adds DDP Export, PQ editing, and higher-quality sample-rate conversion.

Main Features:

Elegant single-window work environment Powerful drag-and-drop functionality Unlimited audio tracks, MIDI tracks, virtual instruments, buses, and FX channels Integrated Melodyne Essential pitch correction Single and multitrack comping Editable Folder Tracks with Grouping and Busing Track display list with presets, linkable to mixer channel display Content browser with search, user tabs, and Preview Player Transient detection with editable markers and editing with groove templates Drag-and-drop groove extraction Multitrack MIDI editing Multitrack Track Transform (advanced freezing capability) Event-based effects Macro Toolbar (create and use command sequences) Nimbit® Extension (market and sell your music) Automatic latency compensation Advanced automation Easy sidechain routing Four stunning virtual instruments User-friendly sampler Control Link (most intuitive MIDI-mapping system available) Real-time audio time-stretching, resampling, and normalization Compatible with any ASIO-, Windows Audio-, or Core Audio-compliant audio interface Works with key commands from Pro Tools, Cubase, and Logic - or create your own key commands 64-bit/32-bit (switchable) audio processing 33 Native Effects plug-ins, including Ampire XT amp modeling, Open AIR convolution reverb, Dual Pan, and Tone Generator IR Maker impulse-response creation AU, VST2, VST3, and ReWire support Integrated mastering suite with automatic mix updating, Red Book CD burning, project PQediting, track split, DDP export, and digital release MP3 import and export Export to SoundCloud QuickTime video playback and sync

System Requirements:

Studio One is a modern, cross-platform DAW that is capable of operating as a 32-bit or 64-bit application.

Mac Mac OS X 10.7.2 or later Intel Core Duo processor (Intel Core 2 Duo or Core i3 or better recommended) 2 GB RAM (4 GB or more recommended) Windows Windows 7 x64/x86 SP1, Windows 8 x64/x86 Intel Core Duo or AMD Athlon X2 processor (Intel Core 2 Duo or AMD Athlon X4 or better recommended) 2 GB RAM (4 GB or more recommended) Mac and Windows systems Internet connection (not required on machine where Studio One is installed but needed for activation) DVD-ROM drive Monitor with 1280x768 resolution 20 GB hard-drive space Read more about this product on the PreSonus Website. Have Questions? Call or Email us for friendly, helpful Service.

Authorized Dealer Full Manufacturer Warranty.

Best Price & Service! Make us an Offer! Low Price Guarantee. Easy 30-Day Return Policy. Knowledgeable sales staff. Total customer satisfaction.

Have Questions? Call or Email us for friendly, helpful Service. (We're open 9am-6pm Central Time) Shipping Info: Fast Electronic Delivery. This software License is delivered via Email / Download. International Customers: No Shipping Required, No Customs Tax. Warranty Info: We are an Authorized PreSonus Dealer. This item is Brand New and includes the Full Manufacturer's Warranty. Advantages of purchasing from an authorized seller: Full Factory Warranty Customer support by PreSonus Guaranteed authentic merchandise Return Policy: We are happy to help you with an exchange or return if you are not satisfied with an item. We offer a 30-Day Full Money Back Guarantee on all items returned in unopened resalable condition.. Please see our Store Policies page for more info.