Resmed Mirage FX SoftEdge nasal headgear gray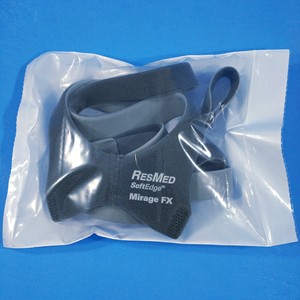 ---
EPAP SourceYour trusted CPAP supplier

​​​​​​​      For many people, CPAP therapy is an integral part of life. Unfortunately, this can become costly and it seems as though there is always a piece in need of replacing. At EPAP Source, we understand this, so we work hard to provide the quality replacement components that you need at an affordable price.

     When purchasing from EPAP Source, you can rest assured that you will be receiving an original piece from Resmed, Philips Respironics, or Fisher and Paykel. We do not sell generic, universal, or other knockoff items.

     Unless otherwise stated, your item will always be removed from a brand new sealed mask kit that has never been used or tried on for any reason. It will be repackaged individually with utmost care in heat sealed, perforated, medical grade packaging.

Resmed Mirage FX SoftEdge nasal headgear gray

For sale is a new ResMed Mirage FX SoftEdge nasal headgear gray.

This listing is for a REPLACEMENT COMPONENT only and is not a mask system. This listing is in compliance with policies for CPAP and medical equipment

See our other items

The photos shows the exact product and packaging that you will be receiving. Please look closely at the photos to ensure it is the correct item for your needs and please ask any questions that you may have before purchasing.​​​​​​​

Some items may have discoloration from light exposure but this will not affect their functionality in any way.

       Payment

We accept payment by any of the following methods:

 PayPal​​​​​​​

Please pay as soon as possible after winning an auction, as that will allow us to ship your item to you sooner​​​​​​​

      Shipping

We offer FREE shipping on all orders via USPS First Class Mail. If you would like priority or some other shipping method, we are happy to oblige for additional postage charges.

We know how important it is for you to receive your CPAP equipment in a timely manner, so your order will be dispatched within 1 day of receiving payment (For your convenience, we ship every day that the postal service is active, including Saturdays) 

We will ship your item in a padded envelope or padded box if neccessary. Headgears will be shipped in unpadded envelopes to keep costs to you as low as possible.

In the very unlikely event that your item is lost or damaged during post, please let us know and will either refund your purchase or send a replacement item

      Returns

We work hard to ensure that only the highest quality items are sold to our customers, and we always double check that the correct item is sent, however if there is a problem with your item please let us know as soon as possible so that we can correct the situation. 

Due to the medical nature of CPAP equipment, we cannot accept returns if the packaging has been opened or tampered with, so please compare your old item to the new one to ensure that it is the same. If there is some other problem with your item other than normal wear and tear, you may request a refund or replacement within 30 days of purchasing.​​​​​​​

100% OriginalHigh QualityFast Shipping

For sale is a new ResMed Mirage FX SoftEdge nasal headgear gray.